We had a busy day yesterday (Valentine's Day) with a visit from Baby A's Nana and Pop, so we didn't get around to the Valentine's themed play that I'd planned. So instead, we did it today.

Whilst Baby A was taking her nap, I went round the house and collected all the red things that I could find. This is how her play area looked when she got up from her nap.


A list of the red things that I managed to gather together (it's amazing what you can find!):
A balloon
2 stacking cups
A plastic ball
A plastic lid
Heart from a shape sorter toy
Discovery bottle (see below for contents)
Felt tablemat
Measuring spoon
Red & white drinking straws
Soft cube from a set Baby A has in her cotbed
Tin with a few different textures in - netting from fruit, sweet wrappers, favour bag, red ribbon left over from Christmas
Sensory bowl with plastic hearts, foam letters and bottle lids
I did actually give Baby A her 'Love' discovery bottle yesterday on Valentine's Day. This contained plastic hearts, cut up straws, parcel bows, buttons and foam letters that spell 'LOVE'.
By just using things that we already had in the house, this activity didn't cost anything to set-up. Bonus!
I really wasn't sure whether Baby A would actually be interested in any of it. She wasn't in the best of moods when she first woke up but I began to move things around in the sensory bowl and make towers out of some of the objects, which started to pique her interest. Then I gave her the balloon and she liked this!
It was actually really interesting that in-between her usual crawling around the room and practicing her walking with her walker, Baby A kept going back to the red pile. She didn't touch any of her other toys all day!!
Here she is getting stuck into the sensory bowl.
Obviously I made sure that I supervised her at all times as there were small objects.
I'm really pleased that I put this together for her. It was great to see her how she interacted with the different things. I'm really surprised by just how engaged it kept her throughout the day.
I'm now trying to think of lots of other themed play ideas and will definitely be trying out some other sensory play with Baby A, so watch this space...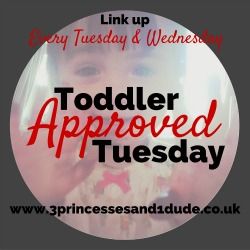 8 Comments »